Overcast House
We were approached by a Personal Colour consultant and her husband to enlarge the kitchen at the rear of their property in Haringey, and make it suitable for use as a studio space for her consultancy.


Her existing studio space at the front of the house was south facing, and the changing sunlight throughout the day and year made it hard to maintain colour consistency when she met her clients. As such, the brief emerged for the new kitchen to have no direct sunlight throughout the whole year, while still being an enjoyable space to entertain in.


Creating a well-lit space that is shielded from direct sunlight was an unusual challenge. At the same time, we needed to design a kitchen extension that would work as an artist's studio. The narrow house needed to accommodate a table of 10 people for consultations, and a downstairs shower to futureproof the home. Once complete, the multifunctional use of the space increased during lockdown, with the clients practicing their daily yoga under the soft skylight.


Our response makes use of north light in the new extension, through carefully shaped rooflights which shield the windows from direct sun. The material palette for Overcast House was also developed in response to the client's wish for there to be no direct sunlight in the new extension. Gold leaf evens out and warms up the north light and sky light that enters the extension from numerous shaped windows and skylights. Meanwhile the soft green beams hover above the space to support the numerous openings.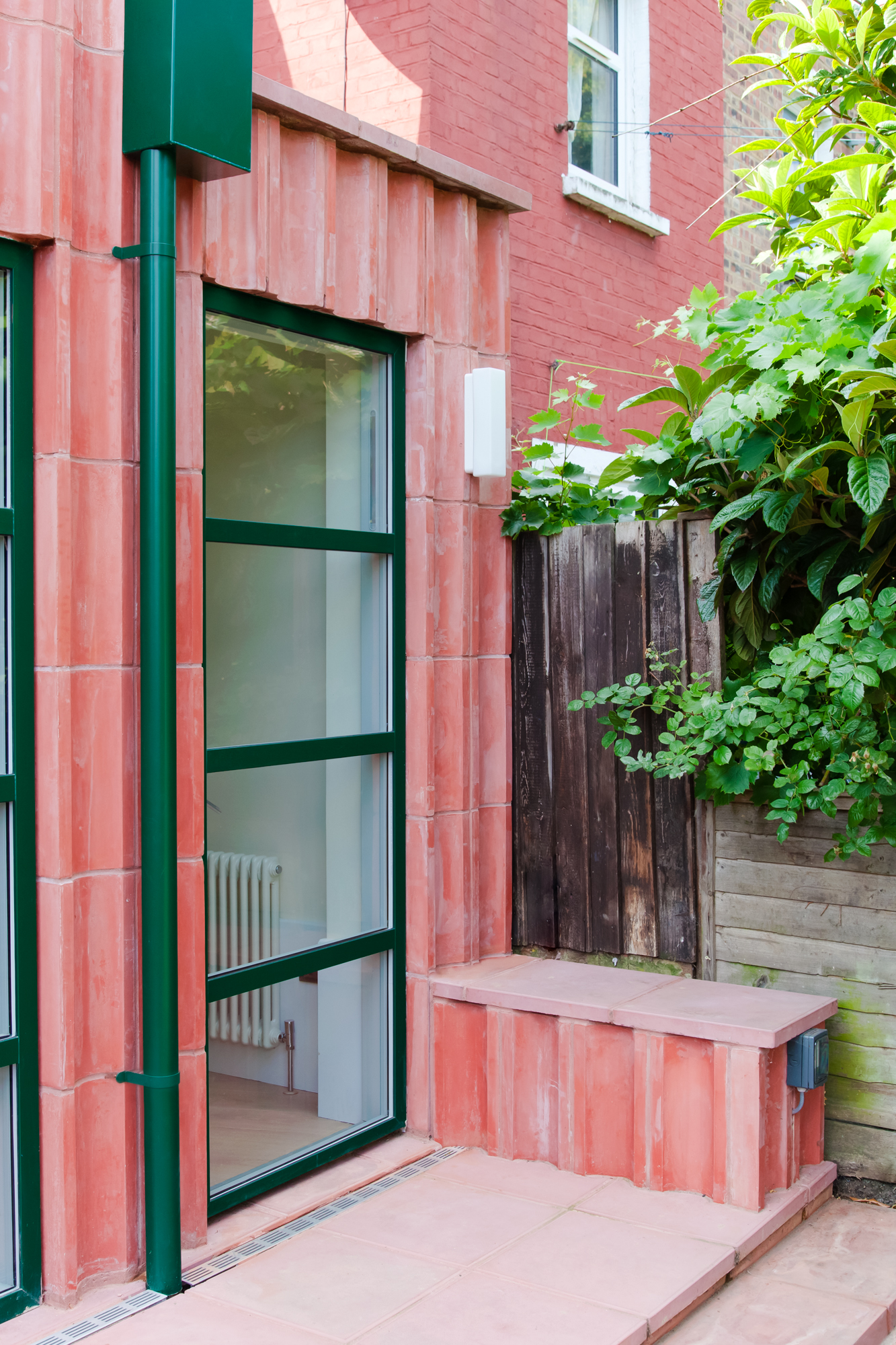 'They were extremely responsive throughout, offering clear and sensible advice for each step of the process. He and his team were an utter joy to work with, and the end results are just fantastic. Couldn't be happier.'


Alan and Keiko Cummings, Clients

Meanwhile on the exterior, the absence of direct sunlight is investigated through "shadow catchers" which we designed to be cast from pigmented concrete by Mortise Concrete. These are a bespoke scalloped block that form a self supporting skin for the new extension. Starting from the profile of an extruded clay drainage channel, the new blocks create modelling on the rear facade even though there is no direct sun, and continue the investigation of indirect lighting which is being tested inside the extension. Cast from a bright red cement, the relief brings the highly articulated detail from the front of the Victorian terrace through to the rear elevation in a contemporary manner. While the external skin is concrete, the rest of the wall and roof structure is timber, in order to reduce the carbon footprint of the build, and create the thinnest structure possible.
To read in more detail about how we transform the homes of our residential clients, please click
here
.