The Local Social Workbook

Commissioned by the Creative Land Trust, this new report offers valuable insights and practical guidance to stakeholders on partnering with the local community on Stratford's High Street in East London, and as a proposal for other town centres and high streets across the country.

The report explores ways to activate the high street in Stratford through locally led activities in partnership with Newham based organisations, and highlights the funding opportunities that exist to resource them. It outlines a series of projects that can be delivered in the short, medium, and long term to bring underused outdoor and indoor, public and private spaces on the high street back into use, while providing practical guidance on how to do this. The document is designed to be used by local partners and the local authority to deliver social benefits, and to be replicable in other locations. This means it can be used as a methodology for delivering social benefits through high street activations in other town centres.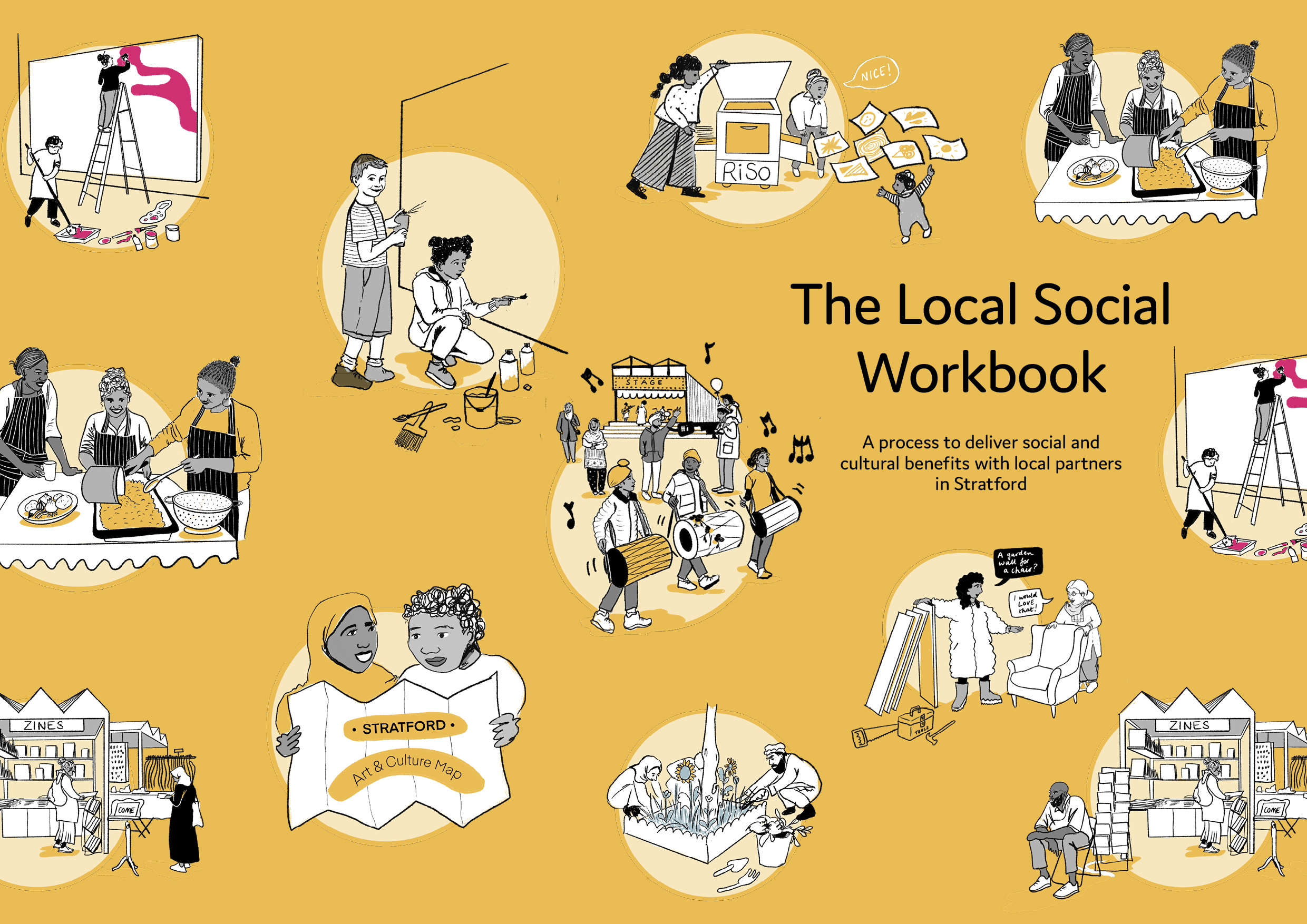 More broadly, the workbook shows how cultural uses and activations can deliver social benefits for the high streets they are located on. These social benefits can be delivered through a range of means, from economic to engagement, which we illustrate through suggesting activations for Stratford High Street. This strategy is designed to enable programming focussed on community wealth building that directs money into the pockets of local people and creates an inviting space for discussion and questioning.

The strategy is designed to support local partners to deliver programming tailored to the local community. In this way, the activations will involve, connect and amplify the partners that are already in the local area. The outcome of this will be greater financial stability for local partners, better service for local people, and greater uptake of the activations.

'Office S&M were commissioned to write a new report for us, funded by the GLA. We had a quick turn-around and they delved into the work effectively and in detail. They also brought in brilliant partners with local knowledge who helped bolster the team. They were able to think sensitively about a wide range of outputs and qualities of the project that interfaced with stakeholders, while also being able to consider the wider implications of the scheme at a strategic level. It was a real pleasure to work with them and we are proud of the result; a practical tool and comprehensive resource that can be used by a range of audiences, including developers, local authorities, local organisations and the community, as well as ourselves.'


Yves Blais, Operations Manager at Creative Land Trust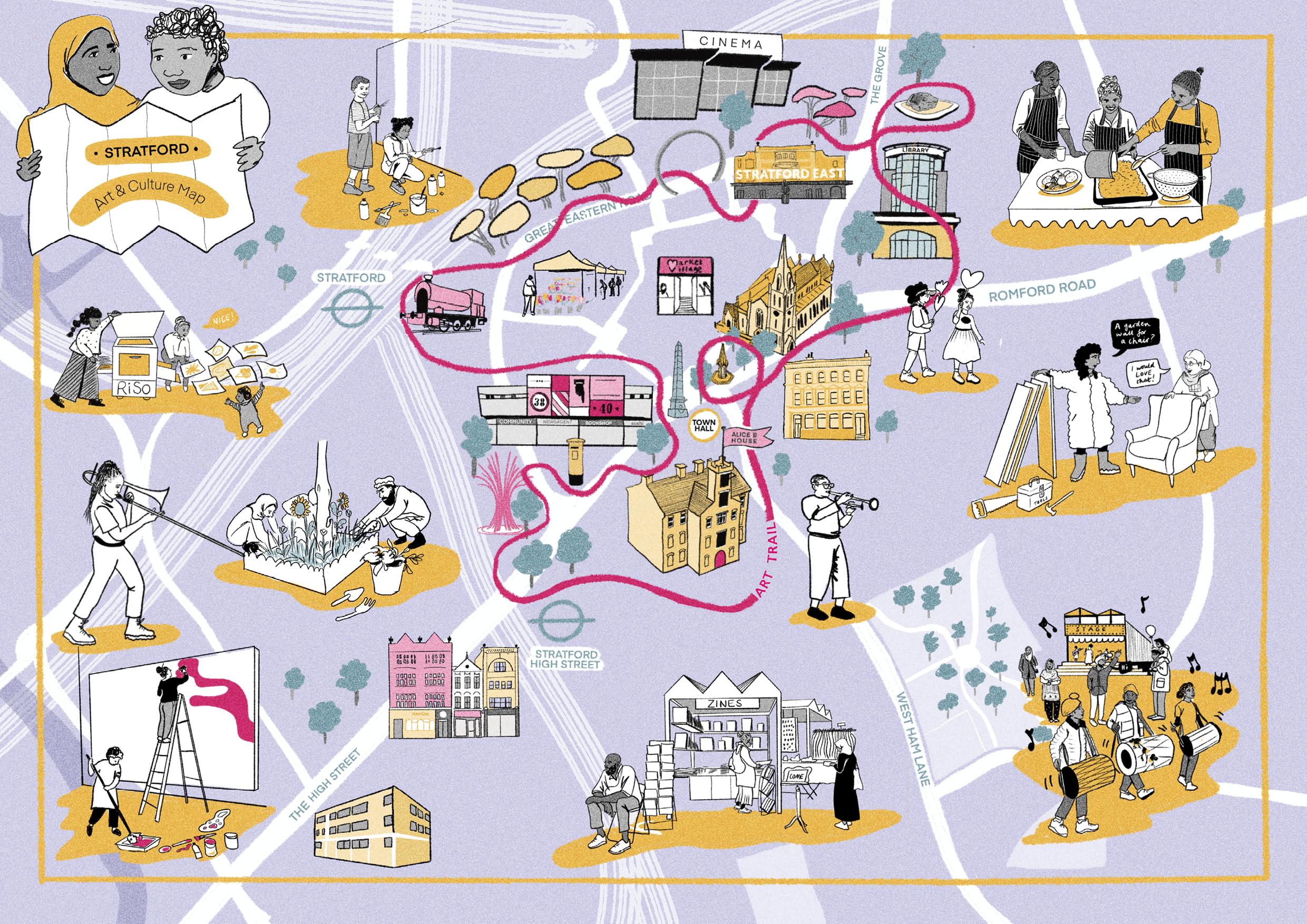 To deliver this, engagement is a key part of the process, because we know the most valuable insights are from the people who live in the area. This will change the narrative of Stratford being a place where projects are "done to" the local community, into one where ownership of the process is handed over to local people.
At the end of the document, there are a series of tools to show how this strategy can be replicated on other high streets. This provides a tool kit including methods, contacts, and funding streams to deliver the social benefits set out in this document on other high streets. For Stratford these activities look to keep culture as central in ensuring for a fairer and more prosperous place with wellbeing and sustainability embedded for the long-term.
You can download the full report
here
Detail

Location: Stratford, London
Project: The Local Social Workbook
Client:
Creative Land Trust
, funded by the GLA High Streets for All programme, in partnership with Newham Council