Goldsmith Mews

Goldsmith Mews is a development of three homes that replaces a row of derelict garages. The design channels the memory of the neighbouring Lord Nelson pub – long since demolished – taking the name of the pub's first landlady, Sarah Goldsmith.


The village of Chalk has a rich history, most notably as the seaside resort frequented by Charles Dickens, who holidayed and honeymooned there, and based his novel Great Expectations on what he observed in Chalk. The design is inspired by the character of the local village, which up until the 1940s was characterised by timber weatherboard buildings, including the former pub. This scheme seeks to reinstate the weatherboard aesthetic, but with a contemporary twist: using a high-quality robust material which will not weather – aluminium. The aluminium panels replicate the rhythm and dimensions of timber weatherboarding, yet are durable enough to withstand the conditions of this exposed location on the edge of the Thames.


While the proposal is a characterful re-interpretation of historic elements from the site, this is a contemporary scheme with overtly modernist detailing. Office S&M's admiration for the work of Jean Prouvé and his innovation with metal detailing is referenced in the porthole glass blocks that provide a contrast to the otherwise historic material character. Similarly, the proposed colour palette circumvents the traditional colours associated with weatherboard, avoiding being described as vernacular.
'The proposals are bespoke to the site and acknowledge its complexities and constraints. This should be recognised as a positive approach and far better than placing generic designs on to the site, which so often happens.'


Design South East

At ground level, the houses are set back to create a sheltered entrance and car parking space under pilotis, in a design inspired by Erno Goldfinger's Willow Road. This level is differentiated materially by its cladding, which runs vertically instead of horizontally, and is coloured yellow to create a bright, welcoming entrance. The portholes on the ground floor are replicated in the roofline with porthole rooflights, which give the design a maritime quality.


The row of houses also adopts the gable roof form ubiquitous in the village. A dormer, differentiated by its cladding of zinc standing seam, will house 'a room in the roof' in each of the three houses. The roof space accommodates two bedrooms, an en-suite and bathroom. Meanwhile, the staggered front elevation creates a more inviting entrance, and allows clear views of the Thames from the bedrooms.


The living room is on the ground floor, while the open-plan kitchen diner is on the first floor, providing views over the generous 10m-long private gardens. A third bedroom on the first floor can be adapted as a home office or as an annex space with independent access for multi-generational living. Ideas around flexible living were key to the project, with the two living spaces offering options for a variety of living configurations.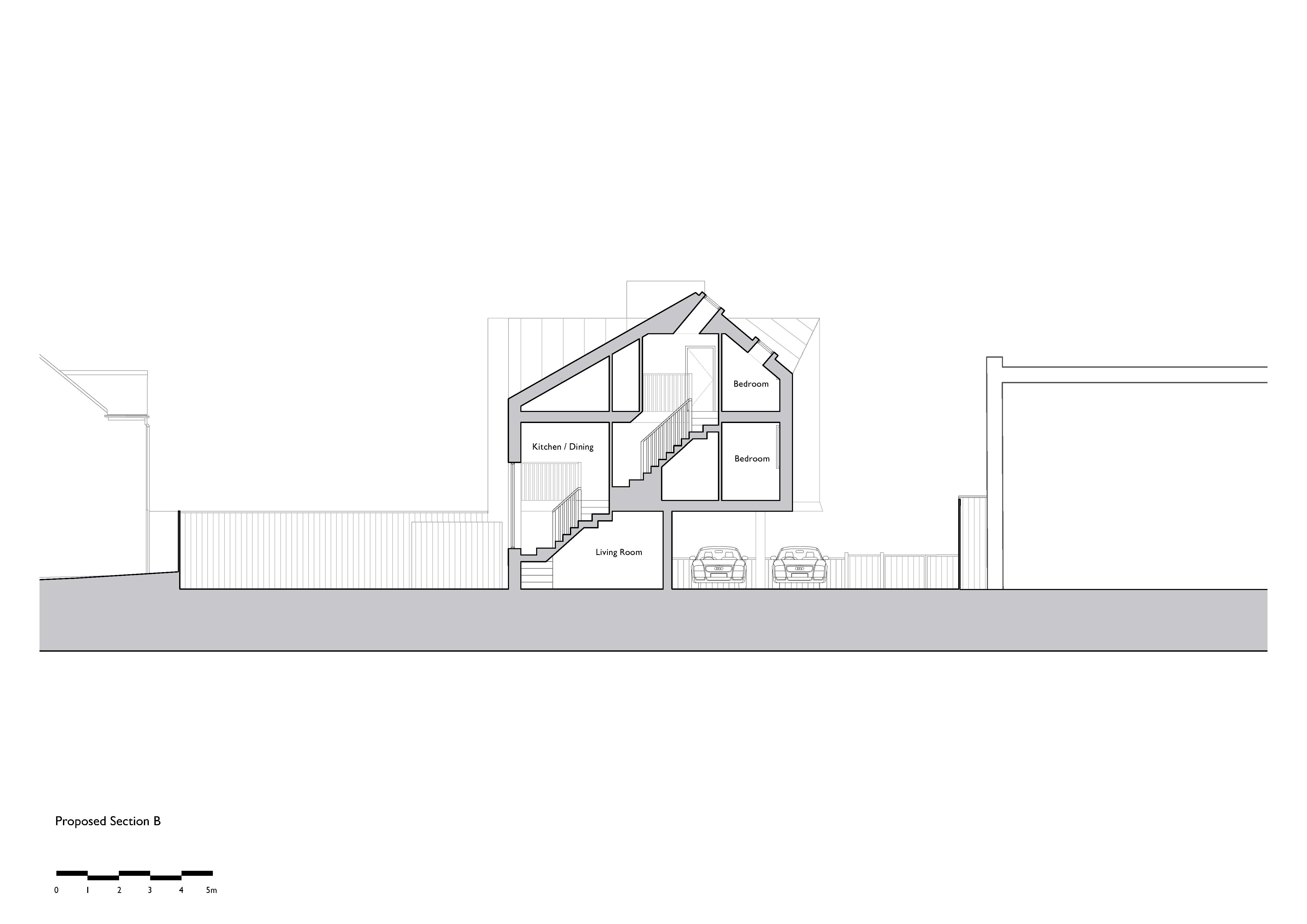 Detail

Location: Gravesham, Kent
Project: Planning permission for three new build houses on infill site
Client: Dartford Garages
Completed: In progress
Team

Architect: Office S&M
Landscape : Maude Pinet
Daylight/Sunlight :
T16 Design
Transport :
Paul Mew Associates
Flood Risk and SUDS :
Herrington Consulting
Archaeological :
Wessex Archaeology
Visual : William Bryan