Stories of Sutton

As part of a wider regeneration project in the town centre, we developed engagement workshops with different groups to co-design three artworks along Sutton High Street.

Through these workshops we asked residents and shoppers to tell their Stories Of Sutton. These were written in letters or drawn at 1:1 using giant triangular Tangram tiles. For example, one lady wrote us a letter about how her parents first met while staying at The Cock Inn, and her children created a cockerel motif from the tiles.


We collected these stories and motifs from participants and then directly translated them into the designs, to tell the Stories Of Sutton. Because the workshop tiles were designed to be the same dimensions as the existing pavement tiles, the participants Tangram designs could be arranged in exactly the same way in the final design.


The designs create a new hopscotch game along alleyways and encourage children and adults to play. This was designed in response to surveys requesting a more playful route through the alleyways. Meanwhile, the hopscotch traces a timeline of Sutton, told through the stories of its residents.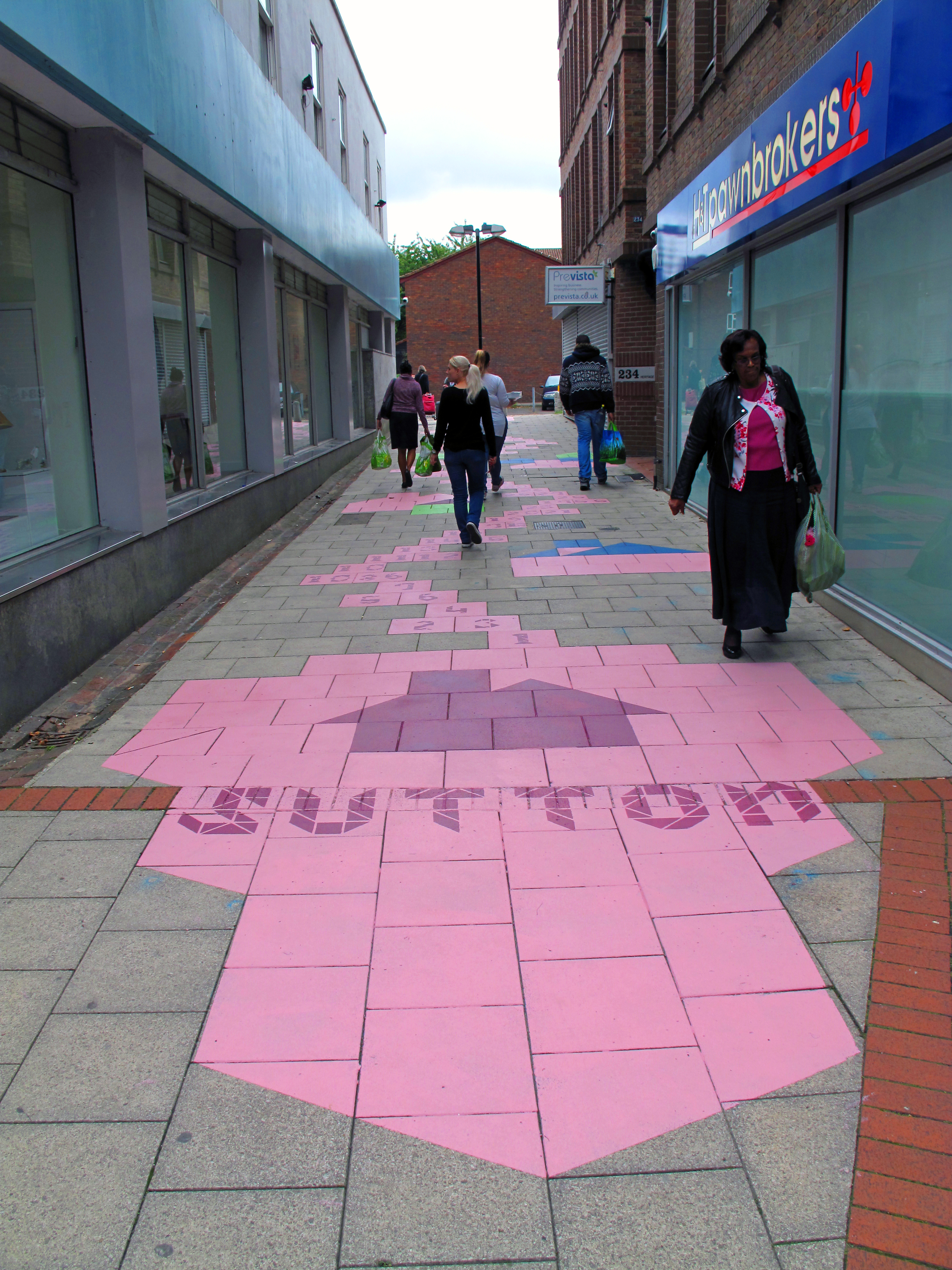 'I can't thank you enough for the hard work you put in - you really have gone beyond your contract to complete the work. Really appreciate it.'


Manmohan Dayal, Area Renewal Projects Manager, Economic Renewal & Regeneration, London Borough of Sutton

To show how the participants designs had been incorporated into the final proposal, they were first installed using a temporary floor paint, so that comments could be collected from residents on the draft designs. Having updated the designs from these comments, as well as key stakeholders and councillors, we realised the designs in a permanent installation of the artwork. Working with Project Centre and Jan Kattein Architects, who were undertaking wider works on the high street, the designs were realised as waterjet cut terrazzo flooring. This provided a durable and attractive permanent installation of the artwork, where residents and shoppers can see their designs brought to life.
As a third part of the project, we worked with students from the local Carshalton College, where we ran co-design workshops to deliver a "live" project. The students selected notable characters from Sutton's history, and used their own artistic approach to design part of a collaborative mural. Developed through a number of workshops using techniques such as collage, drawing and scale representation, the students developed their final designs, which were replicated as a permanent mural on the high street.
To learn more about the services we provide to obtain the best outcomes for our local authority clients, click
here
.
Detail
Location: Sutton, London
Project: Community engagement workshops to co-design artworks along Sutton High Street
Client: Sutton Council
Completed: 2016
Team
Carshalton College
Jan Kattein Architects
Projects Office
MJO Signwriting